H

ow do you change a life? I mean really change a life! It's easy to talk about but actually doing something real that has a lasting effect can be difficult.
---
Most of my life I've been painfully unsuccessful at nearly everything I've attempted to do. I'm working to turn that around though. I espied this book in Barnes & Noble one day: No One Succeeds Alone by Robert Reffkin. I read through a few pages and thought: Wow, this is my kind of book!
---
In a Funk? 101 Things to Love About Life 
Access my latest Medium article with this friend link!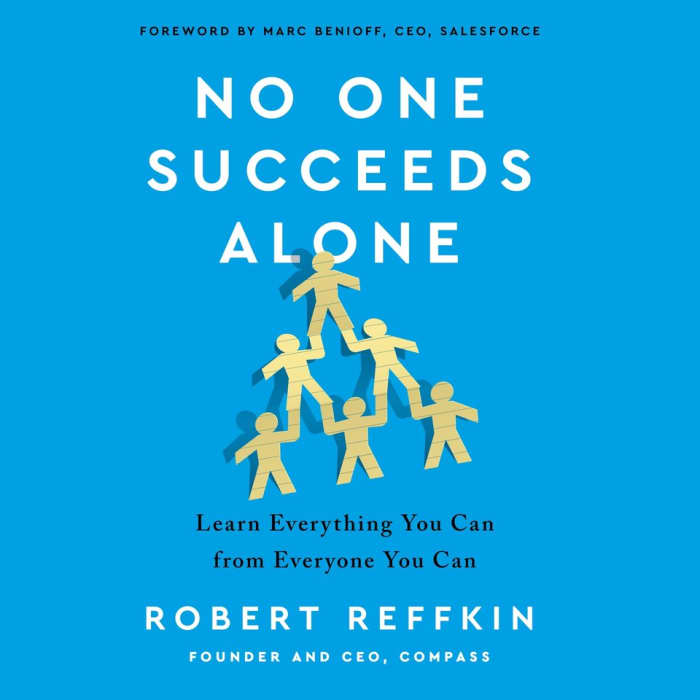 To be honest, I did not know who Robert Reffkin was and even though many books have been written on the subject of obtaining success, this one hooked me in almost immediately. Reffkin described himself as a half-black, half-Jewish man who was raised by a single mother. His father was a heroine addict who died of AIDS. His grandparents disowned his mother and him when they discovered he had a black father. Sounds like a recipe for a potentially disastrous life doesn't it?
And yet, he went on to be amazingly successful, eventually founding and becoming CEO of Compass, an online real estate company. I love these kinds of stories, don't you? Gives me hope for my own tragically disadvantaged life!
---
Greatest takeaway
I've long been aware of the biggest hurdle I have when it comes to no longer failing at my goals: my dreadfully poor people skills! Social anxiety and success a good mix does not make, said Yoda. I know for sure this is a soluble problem and one that I continue to work diligently on. Coming from a disadvantaged background is a reason but it's not an excuse.
Beyond merely being instructional, reading this book was a pleasure. I enjoyed learning about Reffkin's life and how he was able to develop his people skills and then use those skills in his journey toward success. It was a truly inspiring read and it gives me a lot to consider and apply to my own life.
---
Interesting things to note about Robert Reffkin
He was lucky enough to have a great mother. At bedtime she didn't say have sweet dreams, she said have big dreams. Isn't that cool?
He was a C average student in high school, always had a feeling of not belonging and felt like an imposter in all his first jobs.
---
Nuggets of great advice
Opportunity is everywhere. Obsess about it. Dream, ask and listen.

The right dream for you is the one that gives you the most energy.
Learn everything you can from everyone you can.
Don't focus on unfairness. Adapt and adjust.
Don't ever accept that you don't belong… find a way to belong.
---
Awesome quotes
"If someone tells you you can't do something, do everything in your power to prove them wrong."
"Unless you can prove the impossible to be truly impossible, it isn't impossible."
"There are two kinds of people in the world, those that give you energy and those that take it away."
"Resilience, grit and passion is essential for entrepreneurs."
---